WSMR Kids Reunion in 2015 – It Happened!

September 3rd, through the 7th, 2015
Well WSMR Kids – another dream came true. Fun was had by all. We truly miss those of you who were not able to make it.
A special thanks goes to Bill Adler and the committee members that made it all possible.
Working with Bill & Angela, we have Wendy Boetticher who has come forward to act as Treasurer, David Desrochers who setup the lodging arrangements with Hotel Encanto. Also we had the faithful support of our webmaster, Jim Fulp. 
 Reunion Pictures
Pictures were taken at our dinner dance by Jack Diven. He has taken pictures for us at numerous reunions. (No purchase was required .) The photos are posted at the link below.
Thank you to our attendees for sending in the additional photos: Mike & Linda Brilliante, Donna Morrison, Pam Morris & Charles Borland.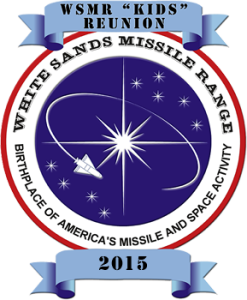 ---